The InovaReal CTO on Development and Growth
JW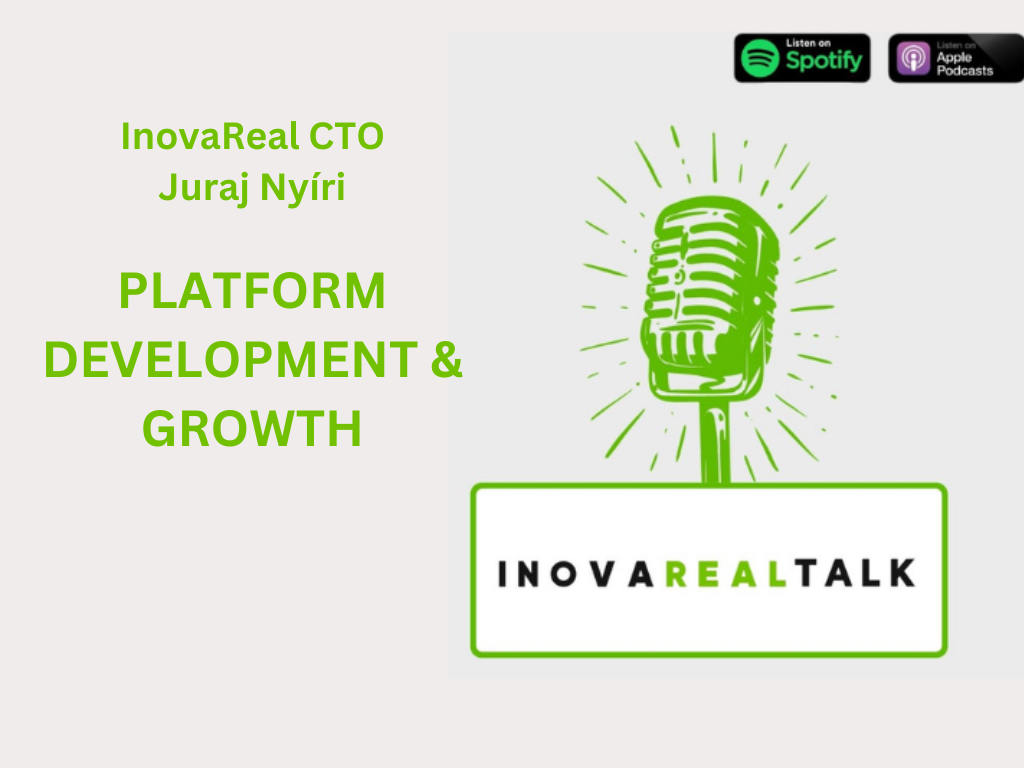 With its all-in-one platform for real estate transactions, Austrian proptech startup InovaReal has redefined the way properties are bought, sold, rented, and managed. At the core of this transformative venture is Co-Founder and Chief Technology Officer (CTO) Juraj Nyíri, a visionary dedicated to creating innovative solutions. In a recent podcast interview, Juraj offered valuable insights into the technical complexities that power InovaReal and the challenges faced during different phases of its journey.
The Startup Phase: Inception of a Vision
The journey of InovaReal began many years ago with a passion for creating something truly revolutionary. Born out of Juraj's early fascination with programming and his entrepreneurial spirit, he embarked on his first innovation venture when he was 16 years old, crafting a platform for driving schools in Slovakia. This initial deep dive into the business world exposed him to real-world challenges and the opportunity to work directly with clients.
A few years later - Juraj was studying artificial intelligence - Juraj met Martin Pavelek, a lawyer and expert in commercial law. They soon found that they could effectively support each other with their knowledge, and their collaboration eventually led both to forming the core team of a startup that was to leverage innovative technology to digitalize one of the oldest industries in the world: real estate.
UX Testing: Refining the User Experience
InovaReal's journey began with a clear vision: to simplify real estate transactions through a smooth and user-friendly experience. Thus, the small team prioritized excellent UX from the start. It became the heart and soul of InovaReal during the initial product development phase.
Gathering feedback from friends and family and conducting structured tests to fine-tune the platform, Juraj welcomed every feedback he received: "We sought the input of early adopters and valued their feedback, using it as a compass to guide us towards excellence. Each insight gained from user testing provided invaluable knowledge, enabling us to make iterative improvements to the platform."
The goal was to eliminate complexities, making real estate transactions hassle-free and convenient for users. This early focus on UX became the cornerstone of InovaReal's initial success.
Innovative Features: The Role of AI and Future Enhancements
Although artificial intelligence was not integrated in the initial version, InovaReal envisions future AI-driven features to further enhance the platform. To name one: smart algorithms that personalize property suggestions based on user preferences and location data.
Including innovative property indexes can provide users with feasible options to choose from. By considering location, pricing, amenities, and nearby establishments, this feature would empower users to make informed decisions with ease.
Security and Legal Compliance: The Secure Signing Process
Safe and secure processes are crucial to meeting the legal compliance standards of the InovaReal platform. This includes adhering to different legal requirements in each country. For contract signing, the platform offers a secure, legally binding process that is based on facial recognition and ID verification. As an additional safety measure, all contracts are encrypted.
The Launch Phase: Laying the Foundation
InovaReal's successful pre-seed investment round secured assets to finetune the platform and to prepare it for its initial launch in Slovakia. The launch in Slovakia will serve as a valuable testing ground, offering insights into how the platform performs in a live environment. It will be one of the big milestones in the development of the startup.
Juraj is confident that InovaReal will launch successfully. After all, the market appreciates innovations that leverage technology to simplify complex processes and make them more transparent. InovaReal has built a platform that caters to the core needs of all users involved in real estate transactions, but with technology that eliminates the pain points on both the demand and supply side of the market. This USP clearly positions it above the competition.
Scaling Up: Product Improvement and Regional Expansion
With the core product in place and the initial market launch in sight, InovaReal is already approaching new horizons. Following the rapid development phase and the initial launch, InovaReal plans on taking a deep breath to analyze the learnings from the Slovakian market. This will serve to prep the platform, before launching in the Austrian market, the next big milestone in corporate development. Other interesting markets will follow, in Europe but also in other regions, such as the U.S. and the UAE.
Expanding to new countries, however, presents challenges related to varying legal requirements, languages, and market dynamics. To overcome this obstacle, InovaReal will remain agile and adaptable, leveraging its experience to customize the platform for each market's unique demands. As the user base grows, scalability will be a key focus area, to ensure that the platform can handle increasing demands without compromising on performance.
A pioneer in his field, Juraj looks forward to future challenges: "The core product is already a significant contributor to digitalizing and improving the real estate transactions market. With the future integration of AI-driven features, InovaReal is poised to set new industry standards and revolutionize real estate transactions worldwide. Our dedication to innovation ensures that InovaReal will remain at the forefront of real estate technology, simplifying the lives of users and redefining industry standards."
Would you like to join the growing community of smart landlords and renters that opt for InovaReal! Register now